Blog Tour: The Crow Rider by Kalyn Josephson
Hey guys. Today is my stop on the blog tour for The Crow Rider by Kalyn Josephson and I am bringing you a guest post. Enjoy!
---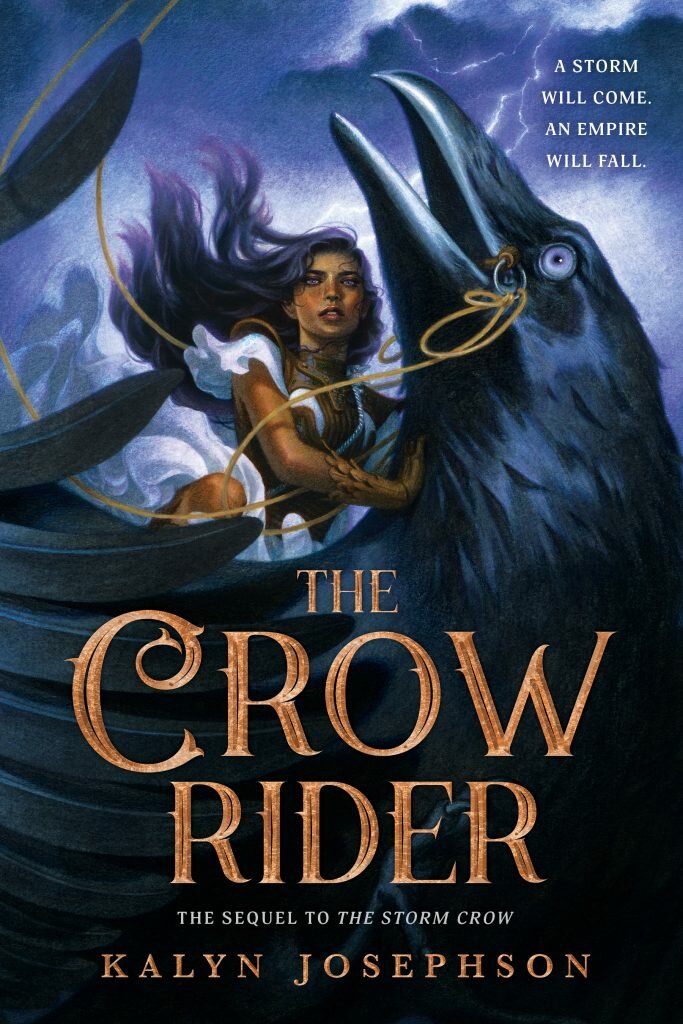 Title: The Crow Rider
Author: Kalyn Josephson
Genre: Fantasy
Publication Date: 1st August 2020
Page Count: 352
Publisher: Sourcefire Books
Goodreads Link: https://www.goodreads.com/book/show/42374300-the-crow-rider 
Amazon Link: https://www.amazon.co.uk/Crow-Rider-Storm/dp/1492672963
Summary: The thrilling conclusion to the epic Storm Crow duology that follows a fallen princess as she tries to bring back the magical elemental crows taken from her people, perfect for readers who want fantasy books for teens.
Thia, her allies, and her crow, Res, are planning a rebellion to defeat Queen Razel and Illucia once and for all. Thia must convince the neighboring kingdoms to come to her aid, and Res's show of strength is the only thing that can help her.
But so many obstacles stand in her way. Res excels at his training, until he loses control of his magic, harming Thia in the process. She is also pursued by Prince Ericen, heir to the Illucian throne and the one person she can't trust but can't seem to stay away from.
As the rebel group prepares for war, Res's magic grows more unstable. Thia has to decide if she can rely on herself and their bond enough to lead the rebellion and become the crow rider she was meant to be.
---
Picking only five of my favorite things about Thia is tough, but here we go:
Her strength. Thia goes through a lot in the prologue alone, not to mention two full books of trying adventures, and no matter what she faces, she keeps fighting, which is something I really admire about her. There are times when everything feels like too much, but she also has the strength to be honest about that with the people around her and rely on them to support her, which is something I think a lot of people struggle with.

Which leads into the second thing: her loyalty and willingness to befriend people. A lot of TSC and TCR are about connections and relationships and how vital they are to sustaining us. That's something that has always been true for Thia, but she learns exactly how important it is through the course of the story, and she really fights for those relationships, even when they're difficult to form or maintain.

Her wit. I love that Thia will say what she's thinking, even when it gets her in trouble. I'm terrible at confrontation, but Thia will throw herself right into it, even when it's uncomfortable or intense. She doesn't back down, and she always has a sharp word to do it with.

This one's totally a reflection on me, but I love her obsession with dessert. In the midst of war and everything else, she's still enticed by a yummy looking cake. It just feels like a very real, personable part of her, that brings her down from the crow riding princess level to the everyday person level (who also happens to ride a giant magical crow).

Lastly, I'd say her flaws. Thia makes a lot of mistakes. She struggles with her weaknesses and her own self-doubt, and she grows from it all. I've had a lot of readers tell me how faceted and real she feels, which is such a high compliment, but I think a lot of that is in part due to how vulnerable she is, and how she doesn't just bounce right back from whatever happens. She has to fight for everything, which I guess brings me back to point number one. I love her fighting spirit.
There's a lot more I could say about her, from her willingness to listen and change her mind, to seeing the many layers that make up a person, to how caring she is. She's definitely a character who's near and dear to my heart, and who I'll miss as I move onto new books.
---
Author Information
Kalyn Josephson is a fantasy writer living the California Bay Area. She loves books, cats, books with cats, and making up other worlds to live in for a while. THE STORM CROW is her debut novel.
Website: http://kalynjosephson.com 
Twitter: https://twitter.com/kalynjospehson  
Instagram: http://instagram.com/kalynmjosephson 
---