Blog Tour: Hello Dark by John Coxhead (Guest Post)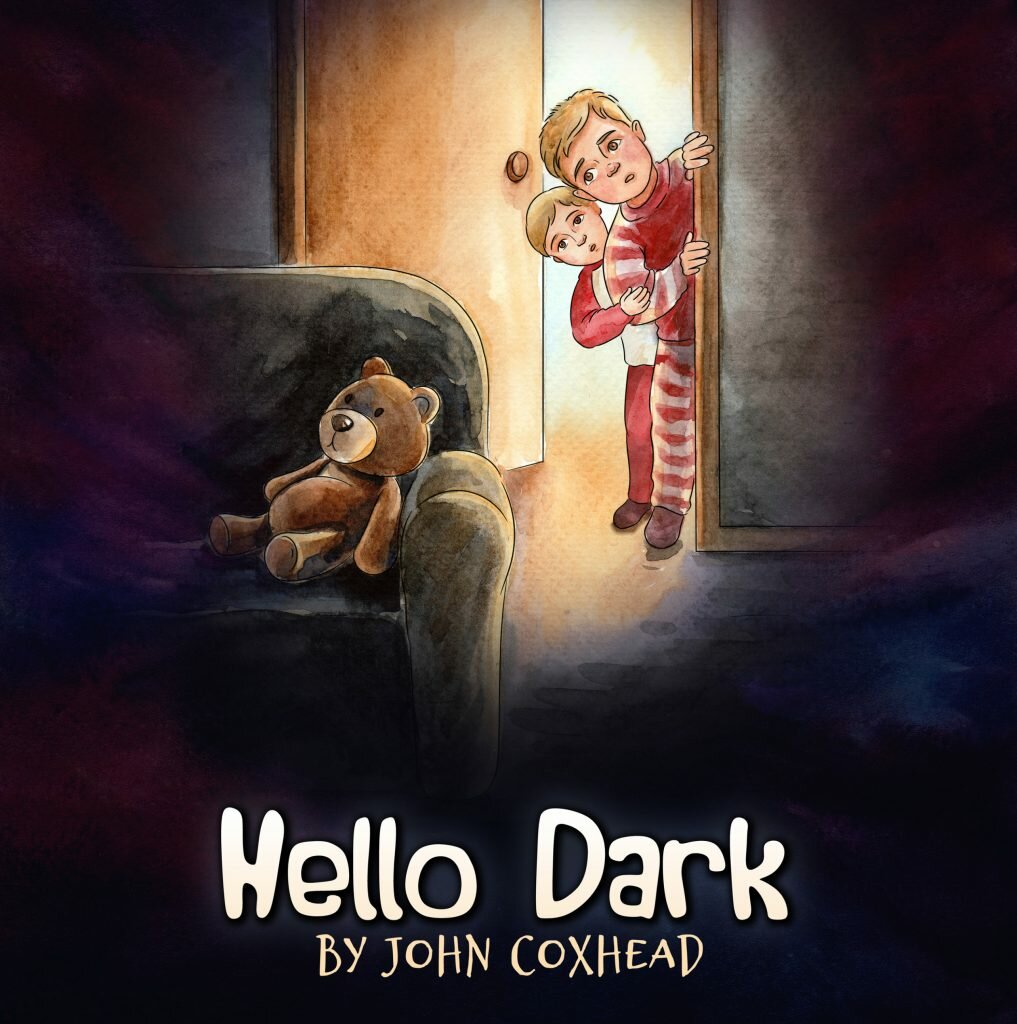 Title: Hello Dark
Author: John Coxhead
Release Date: 26th May 2020
Genre: Picture Book
Page Count: 104
Publisher: Clink Street Publishing
Goodreads Link: https://www.goodreads.com/book/show/53550570-hello-dark 
Amazon Link: https://www.amazon.co.uk/Hello-Dark-John-Coxhead-ebook/dp/B088WL38DC
Summary: Welcoming and becoming comfortable with the dark is such an important thing for children to learn. Simply by saying 'Hello Dark' has proven – in the author's experience – to be a fun, engaging way of overcoming the worries and fears of the dark. This delightful story for children aged 5 to 8 can help support them at bedtime and during the day.
---
Five Reasons you Decided to Write Hello Dark 
After seeing how much the fear of the Dark effected my Son who was 18months – 2 years at the time. I knew I had to try something new. 
One winters early evening, I sat Freddie in the middle of the hallway, doors all around, I opened all the doors to reveal dark rooms. 
I ran into the first room and shouted Helloooo Darrkkk, and again into other room in a silly high pitch voice Helloo Darkk. 
To my delighted my Son was in fits of laughter, I repeated and repeated again, and then scooped him up and ran with Freddie in my arms into the Dark room and to my wonderment he said in a funny voice Hellllllllooooooooo Daaarrrkkkkkk! 
And the journey started…. 
I will never forget the moment myself and my partner Sarah overheard Freddie saying to his little sister Harper 'don't worry Harper I know a trick' just say Hello Dark and everything will be fine' followed by both of them saying Hello Dark, Filed with joyous emotion we both smiled and that when I knew I had to write this book. 
I have worked extremely hard all my life, working none-stop, I have always been a very creative person an avid entrepreneur. However, in May-June 2019, I made the surprising decision to exit my business in one fell swoop. Much to the surprise of everybody around me this was the right time for me. 
This gave me a chance to slow my mind down, 
It was a very difficult time for me, my mind was used to dealing with many items at once having no chance to live in the moment and I found myself with nothing to think about, no phone calls, a truly strange feeling. In July I found the first draft of Hello Dark that I drafted 18months to 2 years prior but had no time to finish, with a clearer mind and time on my hands I set to work on finishing the book. 
A moment in time, The Hello Dark book is a snapshot of a picture in time within my children's lives. I wanted to create an everlasting gift for my children and for myself and the family. Something that shows I care and something that lasts for ever. It was also important for me to capture the incredibly loving moment where Freddie passed on his fear fighting trick to his sister. I want Harper to know how much her bother cared for her at such a young age. Having a book, like a detailed photograph in time that truly lasts for ever was the main reason for finishing Hello Dark. 
As a successful Businessman whose life was spent on the phone, not living in the present I wanted to show a project that the Children could relate to. Thinking of idea and taking that idea from a moment/idea and understanding what is required to bring this idea to a reality. 
How to write and layout the book, In this case finding the right Illustrator, how to go about printing a book, what look and feel did we want, who would read it, even how to create a Television Campaign in a mist of a global pandemic, having to send Go Pro cameras out to actors to film, planning a marketing campaign 
From an idea to reality is something I do every day, however this was a great project to show my Children a relatable project and see first-hand to lengths it takes to not only start a project but to see it through to the end, that part of the journey was very special to me. 
Engaging the whole family has also been a great part of Hello Dark, my mother Linda the children's Nan, has dedicated her life working with Children and was a great motivation for me to finish the Hello Dark, it has truly been a great family experience indeed.
---
Author Information
John Coxhead's first entrance into the world of Children's writing is the heart-warming book Hello Dark.
This self-help tactic created by John Coxhead has been widely successful, a tactic using repetition, subliminal messaging and most importantly humour. Welcoming and becoming comfortable with the dark is such an important tactic, Hello Dark has proven to be a fun, engaging method that overcomes worries and fears of the Dark. Eradicating these issues, via repetition in different scenarios is key to this method. Please remember to repeat Hello Dark in normal day-to-day life allowing this to be subconsciously embedded.
As we get older and see so many things, our mind records images, along with emotion, matching feelings with moments in time, smells, feelings, fears, and sounds. When the mind captures a moment as an image or remembers a sound that it has seen or heard before, the feeling can repeat, as human our fight or flight mechanism is there for a reason, however we can overthink these feelings. Fundamentally changing the emotion that we related to different situations is key in changing the way you feel about a certain matter. Simply saying 'Hello Dark' will evoke happy, warm, family feelings of comfort and humour, allowing the mind to feel safe and changes your child's mind in relation to the Dark with these warm feelings, replacing feelings of panic, fears and anxiety.
What has been a wonderful feeling is seeing so many children enjoying reading Hello Dark, but also the comments from Parents, Grandparent, Auntie 's and Uncles, Brothers and Sisters who have shared their experiences with John. Lastly, the highlight of this book is John's Children, who firstly benefited from the technique created, but now want to tell others about Hello Dark. John will never forget the moment he and his partner overheard Freddie saying to his little sister Harper, 'don't worry Harper I know a trick, just say Hello Dark and everything will be fine', followed by both of them saying Hello Dark, a moment filed with joyous emotion, they both smiled and that's when he knew he had to write this book.
Website: www.hellodark.co.uk 
Facebook: https://www.facebook.com/The-Hello-Books-110836313968632/ 
Instagram: https://www.instagram.com/thehellobooks/