Blog Tour: A Cellist Soldier by Robert J Fanshawe (Guest Post)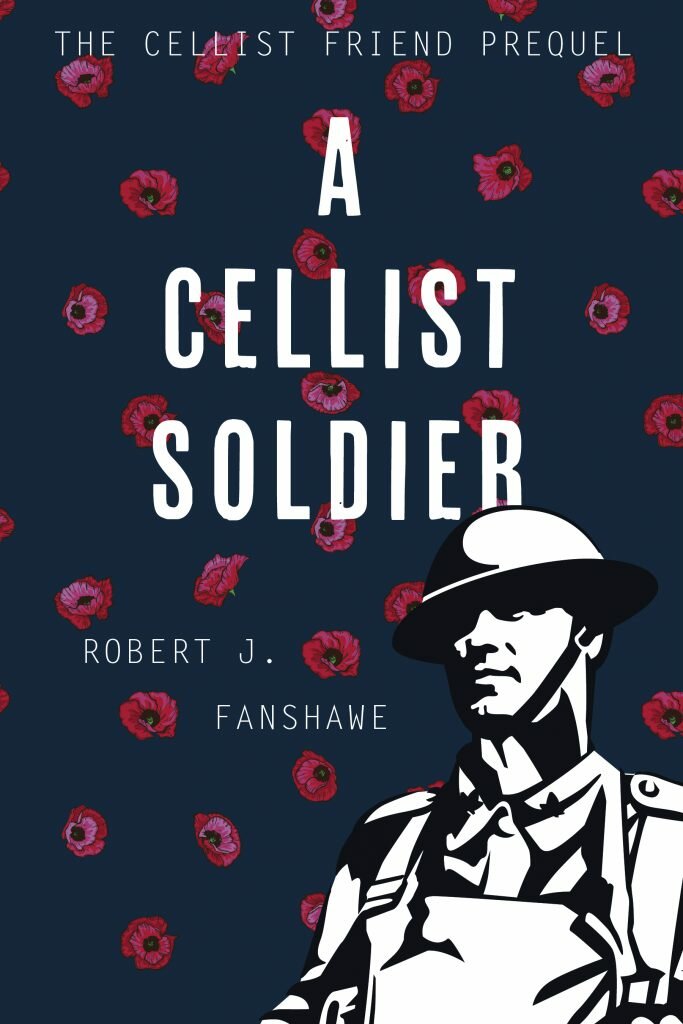 Title: A Cellist Soldier
Author: Robert J Fanshawe
Genre: Historical Fiction
Publication Date: 9th June 2020
Page Count: 276
Publisher: Clink Street Publishing
Goodreads Link: https://www.goodreads.com/book/show/53668062-a-cellist-soldier 
Amazon Link: https://www.amazon.co.uk/Cellist-Soldier-Robert-J-Fanshawe/dp/1913340414/
Summary: A British Battalion moves up ready for the World War One 1917 battle of Arras. A much loved Regimental Sergeant Major is blown up, the man taking his place intensely disliked. A patrol is sent into No Man's Land to rescue a casualty crying for help.
One soldier, a cello player, throws his rifle away when the wrong casualty is shot in frustration. Threatened with Court Martial, he walks alone to find the real one, imagining playing his cello. He finds him, legs impossibly injured, pulls him from the mud and carries him towards a German medical station.
The casualty, Sergeant John Wall, a real soldier shot for desertion in 1917, dies and the cello player is taken prisoner. He runs from the medical station wearing a red cross apron. On returning to his own line he is arrested.
Witness a flawed Court Martial and a bizarre final 'victory' which is to have a profound effect on Ben the cellist's friend and the fundamental question of justice in war.
---
How I researched this book.
This book started as a play. I wanted to write about the First World War for reasons covered in my BIO. I saw an opportunity to write a play for the beginning of the war's centenary in 2014 about the poet Wilfred Owen, whose work and life I had read quite widely. After the local success of this I wanted to write another play with an artistic theme, since art, particularly poetry; has shaped our memory and view of the war. I chose the cello for its mournful tone and ability to express the emotions of war. A week after beginning the play in late 2015 it was reported that a cello had been discovered in an attic which had been played in WW1. I took this as a sign that writing about this was right for me. 
I am a member of a writers' group here is SE London that meets once a month with a specific chosen subject to write about. The subject at one such meeting was justice. I chose to write about the injustice demonstrated by the execution of some soldiers in WW1 for military crimes such as desertion and disobeying a lawful command. While researching this I discovered that the Worcestershire Regiment had the dubious distinction of being the regiment with the most executions of any regiment during the war, including five men shot on the same day from the same battalion. 
That is approximately one percent of the whole battalion. Two years later another soldier from the Regiment was executed also, Sergeant John Wall. It was indeed unusual for a sergeant to be executed and this one had an unblemished record of service throughout the war up to that point. Even a cursory look at the facts of this case show how much of an injustice was done. I viewed the Court Martial papers in the National Archives. The proceedings were written in pencil in a very hasty manner with no due regard to defence or mitigation. When I wrote the Court Martial scenes in A Cellist Soldier, I tried to mirror this. I decided also to bring Sergeant Wall back as a character in the book, not telling his story but just to highlight injustice that happens in war. 
Many things happened in 1917 during the war. The battle of Arras seemed a good setting for the book as the Worcestershire Regiment were involved and Sergeant Wall was executed in  that year as well. Finally for me personally it was a memorable year as my uncle was killed on 3 August. 
After writing and finishing the play in 2015 I realised that the story of the cello player's friend needed now to be told as a novel. So I wrote The Cellist's Friend which was published in 2018. Then I returned to the play to convert it into a novel which was what I always wanted to write in the first place. By August 2019 I had finished A Cellist Soldier as the prequel to The Cellist's Friend.
The book has some elements of truth in its structure as can be seen, but is primarily a platform for a trilogy about the loss of values in war, its injustices and the guilt that this causes. The redemption of that and the challenge to hang on to love, comes in the proceeding two books, The Cellist's Friend and the other, the final part, which is at present being written. 
My military service and reading and study of war in general, both in history and in the present always leads me to the conclusion that war does destroy values in a society and prevents that society moving forward. Take the ongoing civil war in Syria; the destruction and total interruption of education of the young is a good case in point. What will be the result of all this and how much has the development of that society been fractured, interrupted and destroyed. The injustice in war, whereby not just individual participants suffer, such as in this book, but many associated people, such as families become victims. The guilt also is very evident from top down across individuals, governments and society. Recovering whether 'winner' or 'loser,' will not necessarily solve the initial problem of the cause of the war in the first place.
---

Author Information
 As a writer you never accept things as they are. You always ask, why is this and what is my part in it?
I chose this 'strapline' for my facebook profile as it encapsulates my philosophy as a writer; to be curious and questioning over everything. Certain passions guide and direct my writing. For those I chose another principle;
Live (and write) by what is in your heart.
So my writing, all of it, comes from the heart, as all art must. Otherwise how can it be truth?
One of my passions is war and conflict, its sufferings and injustices, its contradictions and the nature of mankind that accepts it. I spent thirty-two years in the British Royal Marines. Early on I was fortunate to read Remarque's novel All Quiet on the Western Front, one of the greatest war novels. Having an uncle killed in 1917 and the poetry of the war, contrived to set my goal of writing about WW1. But it wasn't until the centenary of the war that I found my voice, despite writing much in the intervening years. My initial work was a play; All About the Boys, the last days of Wilfred Owen. This was performed in 2014/16 and published in 2018. After that I embarked on another play; The Cellist. Afterwards I realised that story of the Cellist's friend would make a novel. I had always wanted to write novels so I wrote The Cellist's Friend. It was published in 2018. Then I went back to the play about the cellist and wrote it as a novel and prequel calling it; A Cellist Soldier and this is my latest work.
I have also written another two plays, so far not staged and as a member of a SE London arts group, Global Fusion Music and Arts, I have written other multi-media pieces for stage, one of which, A Tribute to Martin Luther King, was performed at The Greenwich Theatre in October 2019. 
Apart from a career in the Marines, I have worked in Railway Management and now run my own business, a large pub/restaurant with my wife. Over two families I have five children and four grandchildren.
Website: www.thecellisttrilogy.com 
Twitter: http://www.twitter.com/rjfanny