Blog Tour: Dawn of the Patriot by Okimi Peters
Hey guys. Today is my stop on the blog tour for Dawn of the Patriot by Okimi Peters, and I am bringing you a guest post. Enjoy.
---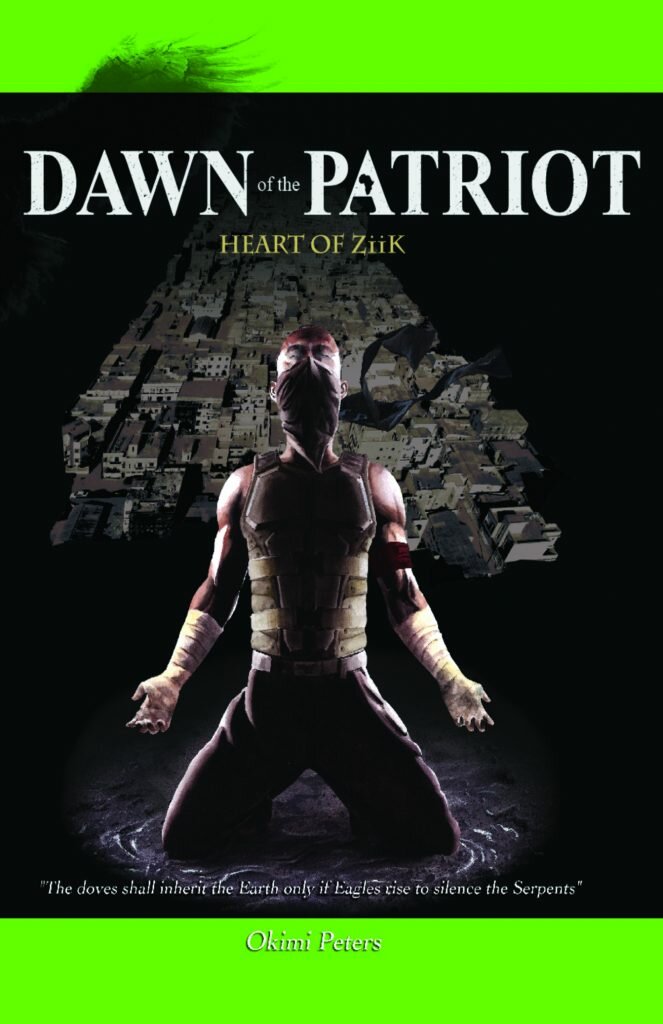 Title: Dawn of the Patriot: Heart of Ziik
Author: Okimi Peters
Genre: Graphic Novel
Page Count: 30
Publisher: Independently Published
Goodreads Link: https://www.goodreads.com/book/show/53216974-dawn-of-the-patriot 
Amazon Link: https://www.amazon.co.uk/Dawn-Patriot-Heart-Okimi-Peters-ebook/dp/B0856Z5YNT 
Summary: Plagued by the mysterious death of his older brother, the unassuming yet highly spirited 19 year old Ziik will be thrust on the daunting path to becoming a vigilante in the Third World. Progressively finding himself as a symbol of light through the shadows of Africa's most populous nation, Nigeria, Ziik must not only weave through the present day complexities of his homeland on his quest for justice; he must also learn to overcome himself to find peace.
---
Favorite thing about creating a graphic novel
Writing a graphic novel can be quite tasking as one is faced with the task of not only imagining scenes but finding a way to bring the scenes to reality on paper. This is by no means an easy task especially if one is not an artist. Nonetheless, I prefer graphic novels to conventional novels for this exact reason – you can paint scenes directly from the mind onto paper. Moreover, it is often said that a picture is worth a thousand words, so painting several pictures while telling a graphic novel story allows for a much richer story to be told in a way that cannot be accurately captured otherwise. Perhaps my most enjoyable aspect of creating a graphic novel is the teamwork that is often required to bring one's ideas to fruition – the collaboration – the blending of several different perspectives into a unified lens. Coming up with a masterpiece in one's mind and having the ability to communicate it concisely with a team or an artist who becomes the vessel for translating one's ideas onto paper is no easy task. Camera angles, color palette, character designs – these are all but a few of the crucial components one must take into consideration when designing a graphic novel with an artist. For the creation of Dawn of the Patriot, I worked with a team first to refine the story prior to engaging in the artistic exercise. It was quite revealing that there were several aspects of storytelling that had not occurred to me prior which my team brought to light. And I was grateful.
The creative process of bouncing ideas around only enriched the final product which is Dawn of the Patriot. Some say there is no such thing as a stupid idea. To that I must disagree. But even the most ill-fitting ideas somehow find a way of leading to more worthwhile ideas during brainstorming. For the Dawn of the Patriot project, I initially worked with two artists who helped establish the wire frame of the story. Each of these artists brought a unique perspective on how the story telling would unfold on paper. Finally, I worked with a final artist who was more talented than the initial two and who helped unite their different styles into a unique art form which was explored for the storytelling of the series. 
Moreover, considering superhero stories are typically male-oriented I ensured that I included a strong female on the team to allow her to ground the male-centric perspectives. This worked quite well because we were able to create engaging and powerful female characters whose contribution to the storytelling as a whole is unparalleled. I envisioned the story from the standpoint of a movie in a book; that is, telling a movie through a book format much like Watchmen. This required me to entertain levels of introspection I was previously oblivious to and to immerse myself in each character's lens of the world. This was a mentally and emotionally exhausting yet fulfilling process. The suspense and action in the story were first conceived in a movie format before dynamic shots were captured in still frames.
---
Author Information
As a first-time author Okimi Peters is new to writing books but he is not new to the world of writing. He has written scientific papers for reputable journals. His proclivity for writing began during his studies at McGill University where he pursued a Master of Applied Science degree. He wrote several papers and articles as a prerequisite to the attainment of his degree and this instilled in him a strong sense of writing. Okimi would go on to pursue a Doctor of Medicine degree at the University of Toronto as an international student. It is here that he began his first book project, Dawn of the Patriot. This project sparked the birth of the Movie-in-a-book penchant; an initiative that saw Okimi writing his books for big screen adaptation. 
Okimi has since shifted gears from the scientific world into the world of business and currently works as the Executive Director of a telecommunications company called Alpha Technologies Limited. In his own words, "Africa could use more business solutions in transforming her from a third world to a more developed region."
Facebook: https://www.facebook.com/okimi.peters
---
Tour Schedule