Review: Soulmates by Holly Bourne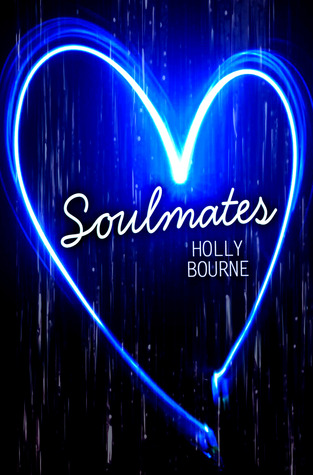 Soulmates by Holly Bourne
Genre: Contemporary
Published by: Usborne
Pages: 544
Format: Paperback
Release date: 01/09/13
Rating: ★★☆☆☆
Summary: Every so often, two people are born who are the perfect matches for each other. Soulmates. But while the odds of this happening are about as likely as being struck by lightning, when these people do meet and fall in love…thunderstorms, lightning strikes and lashings of rain are only the beginning of their problems.
Enter Poppy, the 17-year-old cynic with a serious addiction to banana milk, and Noah, the heart-throb guitarist; residents of mediocre Middletown, sometime students, and…soulmates.
After a chance meeting at a local band night, Poppy and Noah find themselves swept up in a whirlwind romance unlike anything they've ever experienced before. But with a secret international agency preparing to separate them, a trail of destruction rumbling in their wake, (and a looming psychology coursework deadline), they are left with an impossible choice between the end of the world, or a life without love…
---
The only reason I picked this book up is because Holly Bourne is one of my favourite authors. I didn't really have much interest in it apart from that. It definitely ended up being my least favourtie of her books.
For the most part I enjoyed it. It had romance, which I always enjoy reading, so I enjoyed that part of it. However, I really hated the love interest, Noah, at the start of the book, and nothing he did later on in the book made me like him any more.
He got really angry when Poppy rejected him, he used other girls to make her jealous, which he all of a sudden felt bad about when they finally got together. He was just such an entitled, manipulative jerk and I really didn't like him. All his acting like a perfect boyfriend in the rest of the book did nothing to warm me towards him.
I also really hated one of Poppy's friends. She was so horrible to Poppy, constantly going after guys that Poppy said she liked, and she kept telling Poppy that Noah would break up with her because she wasn't ready to have sex.
The only really good thing about this book was that once it got past all that it was mostly just a fluffy romance so I was able to get through it really quickly.
Overall this book just wound me up so much, and I came so close to DNFing it quite a few times. The only reason I continued was because it is by Holly.