Review: Eliza and Her Monsters by Francesca Zappia (SPOILERS)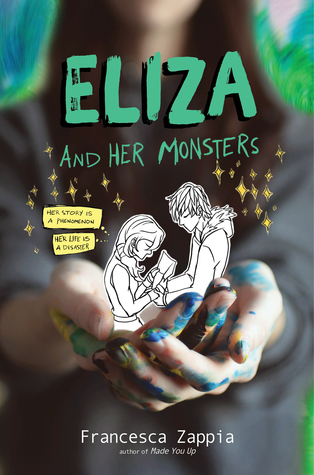 Eliza and Her Monsters by Francesca Zappia
Genre: Contemporary
Published by: HarperCollins
Pages: 385
Format: Hardback
Release Date: 30/05/2017
Rating: ★★★★★
Where to Find: Goodreads | Book Depository
Summary: Her story is a phenomenon. Her life is a disaster.
In the real world, Eliza Mirk is shy, weird, and friendless. Online, she's LadyConstellation, the anonymous creator of the wildly popular webcomic Monstrous Sea. Eliza can't imagine enjoying the real world as much as she loves the online one, and she has no desire to try.
Then Wallace Warland, Monstrous Sea's biggest fanfiction writer, transfers to her school. Wallace thinks Eliza is just another fan, and as he draws her out of her shell, she begins to wonder if a life offline might be worthwhile.
But when Eliza's secret is accidentally shared with the world, everything she's built—her story, her relationship with Wallace, and even her sanity—begins to fall apart.
---
This review contains spoilers. If you don't want to be spoiled, don't read any further.
I bought Eliza and Her Monsters as a birthday present for myself because I had heard so many great things about it, and I'm so glad I did. It has been ages since I loved a book this much. This book was just so amazing and now I just need to gush about it.
First of all, I loved the fact that it had text messages and website pages and bits of the comic itself mixed in with the ordinary story. It was so interesting to see the website and the comic rather than just having it described to me.
I found Eliza to be really relatable for me. I'm not as shy as she is, and I don't have anxiety, but I am quite shy, and I always hated having to talk in school. I also related to the fact that she was obsessed with a book series, because obsess about books is pretty much all I do. I always really love reading books about a main character who reads or is in to fandoms because that is me and its so nice to read about someone like me. (I just found out that Francesca Zappia wrote the first book in the series that Eliza is obsessed with and its available on wattpad.)
I got so engaged in the story. I read it so fast because I just didn't want to put it down. Every time I did put it down, I would have to remind myself that I wasn't Eliza and I wasn't living her life and going through what she was going through. Its been ages since I've been so engrossed in a book that I've actually got lost in the character and the story.
The romance between Eliza and Wallace was so so cute. I always love romances where people are shy or awkward because they always end up being the cutest romances for me. This book fulfilled my cute romance needs so much. I was rooting for them the whole time and I was so excited when they got together.
When it came out that Eliza is LadyConstellation, and things started to fall apart for her, and she had a panic attack, I felt so nervous right along with her. When Wallace found out and got really angry at her and wouldn't speak to her, I felt so sad because they were such a cute couple. Everything that happened at that point just had me feeling so emotional, and its been so long since a book has been able to do that to me, to that extent. I also found that I was able to kind of relate to her reaction to her identity being found out by her fans, because if something like that happened to me, I would never want to leave my house again.
I was so happy at the end when she and Wallace got back together, and when she started drawing again and finished the comic. I was really happy with the way the story wrapped up.
Right now, I need the Monstrous Sea web comic or graphic novels or the novel versions. I just need something, because the little snippets throughout Eliza and Her Monsters were really awesome and I really want to read the whole thing.