Aussie Author Spotlight – Matthew Reilly
Hey guys. I thought I'd start doing a series of author spotlights focusing on Australian authors. I grew up in Australia so Aussie authors will always be special to me. This also seems like a good way to make sure I read more Aussie authors. I've decided to start off by spotlighting one of my favourite Aussie authors, and one of my favourite authors gnerally, Matthew Reilly.
Jack West Jr series
Seven Ancient Wonders: It is the biggest treasure hunt in history with contesting nations involved in a headlong race to locate the Seven Wonders of the Ancient World.

4500 years ago, a magnificent golden capstone sat at the peak of the Great Pyramid of Giza. It was a source of immense power, reputedly capable of bestowing upon its holder absolute global power. But then it was divided into seven pieces and hidden, each piece separately, within the seven greatest structures of the age.

Now it's 2006 and the coming of a rare solar event means it's time to locate the seven pieces and rebuild the capstone. Everyone wants it – from the most powerful countries on Earth to gangs of terrorists . . . and one daring coalition of eight small nations. Led by the mysterious Captain Jack West Jr, this determined group enters a global battlefield filled with booby-trapped mines, crocodile-infested swamps, evil forces and an adventure beyond imagining. (Goodreads)
Scarecrow series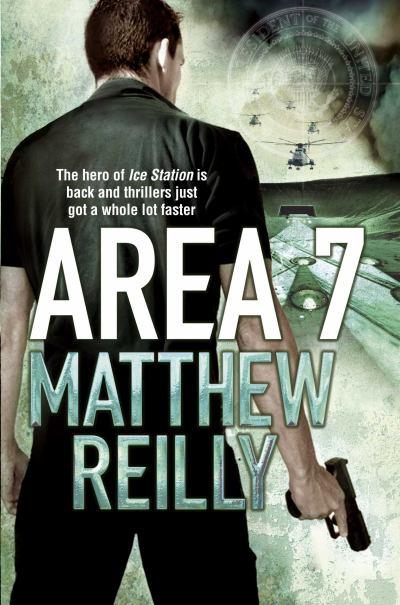 Ice Station: At a remote US ice station in Antarctica, a team of scientists has made an amazing discovery. They found something unbelievable buried deep below the surface – trapped inside a layer of ice 400 million years old.

Something made of metal…something which shouldn't be there…it's the discovery of a lifetime, a discovery of immeasurable value. And a discovery men will kill for.

Led by the enigmatic Lieutenant Shane Schofield, a crack team of US Marines is rushed to the ice station to secure this bizarre discovery for their nation. Meanwhile other countries have developed the same ideas, and are ready to pursue it swiftly and ruthlessly. Fortunately, Schofield's men are a tough unit, all set to follow their leader into hell.

They soon discover they just did… (Goodreads)
Standalone Novels
Contest
The New York State Library looms as a silent sanctuary of knowledge: a hundred-year-old labyrinth of towering bookcases, narrow aisles, and spiral staircases. But for Dr Stephen Swain and his eight-year-old daughter Holly it is a place of nightmare. Because, for just one night, this historic building is to become the venue for a horrifying contest, a contest in which Swain must compete, whether he likes it or not.

The rules of the challenge are simple: seven contestants will enter, but only one will leave. With his daughter in his arms, Stephen Swain is plunged into a terrifying fight for survival. The stakes are high, the odds are brutal. He can choose to run, to hide, or to fight – but if he wants to live, he needs to win. For, in this particular contest, unless you leave as victor, you do not leave at all. (Goodreads)
Temple
From the internationally bestselling author of Seven Ancient Wonders comes another rollercoaster of a ride Deep in the jungles of Peru the contest of the century is underway. It's a race to locate a legendary Incan idol – one carved out of a strange kind of stone. But a stone which in the present century could be used for a terrifying new purpose. Now rival groups are assembling their teams to hunt the idol down, at any cost. The only clue to the idol's final resting place is to be found in a 400-year-old manuscript. Which introduces Professor William Race, a mild-mannered but brilliant young linguist who is unwillingly recruited to interpret the document that could lead to the idol itself. So begins the mission that will lead Race and his companions to a mysterious temple hidden in the foothills of the Andes. There they find a carefully contrived sanctuary seething with menace and unexpected dangers. But it is not until the silence of the temple is breached that Race and his team discover they have broken a golden rule . . . Some doors are meant to remain unopened. (Goodreads)
The Tournament
England 1546.

As young Princess Elizabeth is in a dangerous position as her older siblings jostle for the throne.

Roger Ascham, Elizabeth's teacher and mentor, is determined to keep her safe. So when he receives an unusual invitation from the Sultan in Constantinople, asking him to take part in the greatest chess tournament the world has ever seen, he resolves to take the princess with him.

But death stalks the streets of the glittering Ottoman capital – a cardinal has been found mutilated. Ascham is asked to investigate, but as he and Elizabeth delve deeper, they uncover a secret that marks the young princess for life. And a darkness that defines the queen she will become. (Goodreads)
The Great Zoo of China
It is a secret the Chinese government has been keeping for forty years.

They have found a species of animal no one believed even existed. It will amaze the world.

Now the Chinese are ready to unveil their astonishing discovery within the greatest zoo ever constructed.

A small group of VIPs and journalists has been brought to the zoo deep within China to see its fabulous creatures for the first time.

Among them is Dr Cassandra Jane 'CJ' Cameron, a writer for National Geographic and an expert on reptiles.

The visitors are assured by their Chinese hosts that they will be struck with wonder at these beasts, that they are perfectly safe, and that nothing can go wrong.

Of course it can't… (Goodreads)
Hover Car Racer
A SPORT LIKE NO OTHER

In the world of the near future, the most popular sport in the world is hover car racing. Superfast and dangerous, its heroes are the racers: part fighter pilot, part race-car driver, all superstar.

A BRUTAL QUALIFYING SCHOOL

But to get to the Pro Circuit, you must first pass through the International Race School, a brutal cauldron of wild races on even wilder courses, where only the best of the best will survive.

JASON AND THE ARGONAUT

This is the story of Jason Chaser, a talented young racer selected to attend the Race School. He's younger than the other students. He's smaller. His trusty car, the Argonaut, is older. But Jason Chaser is no ordinary racer. And as he races against the best drivers in the world he will learn that at Race School winning is everything, that not everyone in this world fights fair, and that you never ever have any friends on the track. (Goodreads)
Troll Mountain
A young hero.

Barbaric monsters.

An impossible quest.

In a remote valley, a tribe of humans is being killed off by a terrible disease.

There is a rumour that the trolls of Troll Mountain have a cure for the illness: a miraculous elixir.

When Raf's sister gets sick and his tribal leaders refuse to help him, he makes a courageous decision. He sets out on his own for Troll Mountain … to steal the elixir.

The journey to the mountain has begun … (Goodreads)
About Matthew Reilly
Matthew Reilly is the bestselling author of Ice Station, Temple, Area 7, Scarecrow, Contest, Hell Island, Seven Ancient Wonders, Six Sacred Stones, The Five Greatest Warriors and Hover Car Racer. Over 7.5 million copies of his books have been sold around the world, and he has also written several screenplays and published several magazine articles. Reilly was born in 1974 and studied law at the University of New South Wales. He lives in Sydney, Australia.

(Picture and author bio from here)
Feel free to leave any comments down below. If you want to talk to me about any of Matthew Reilly's books, I would be more than happy to.