Review: One Italian Summer by Keris Stainton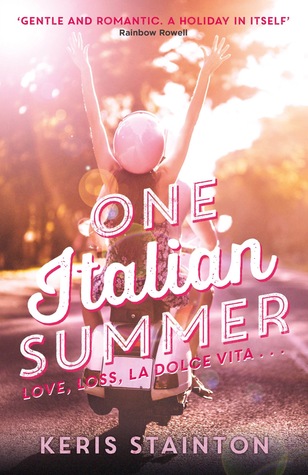 One Italian Summer by Keris Stainton
Genre: Contemporary
Published by: Hot Key Books
Pages: 288
Format: e-ARC
Release Date: 04/05/2017
Rating: ★★★★☆
Where to Find: Goodreads | Book Depository
Summary: It's been a year since Milly, Elyse and Leonie's dad died, and a year since their last trip to Rome. Summer's here again, and once again they are heading with their mum to Italy – but what's it going to be like going without Dad? Rome still holds its familiar charms – the sun is still as warm, the gelato as delicious, the people as welcoming. But nothing is quite as it once was …
With grief still raw for all of them, Milly is facing the additional awfulness of having to see Luke again – gorgeous, gorgeous Luke, who she had a fling with last year, and who she made a total fool of herself with – or so she thinks. What's going to happen this time? What's more, things between Milly, her sisters and their mum are rocky – Leonie is being tempestuous and unpredictable, Elyse is caught up with her new boyfriend, and Milly feels like she just doesn't know how she fits in any more.
Over one Italian summer, can Milly find a way back to the life she once had?
---
I was really excited to read this book because it is set in Italy, which is my favourite country, and I've never read anything set there before.
One of my favourite things about this book is that the main character, Milly, and her sisters all have a good relationship with their mum. In a lot of YA books I read, the main character has a bad relationship with their parents, where they don't talk or they're always yelling at each other. For me personally, I have a really good relationship with my parents, so I really love it when I find YA books that reflect that.
On the other hand, I found it a lot harder to relate to the really good relationship between the three sisters because me and my brother really do not get along at all. It also seemed a bit unrealistic that they never seemed to have any silly fights over nothing, given that they all live together and see each other all the time. However, despite finding their relationship a bit unrelatable, I still really enjoyed reading about it.
Another thing I really enjoyed about this book was that they all talked about their dad, rather than just never mentioning him again. I personally am the kind of person who wants to talk about people who have died, share stories about them and just remember them with other people, so that was another thing I found really relatable.
This book was a lot more mature than I was expecting, in that the main character didn't just have romantic feelings towards her crush, she also had lustful feelings, and these were actually mentioned. For me, this made the book feel more realistic, and it seemed like a more realistic portrayal of an 18 year old girl than I have seen in other books.
Overall I found this book really relatable and enjoyable.